Leadership
Tan Xuguang
Senior Economist
Chairman of the Board of SINOTRUK
Tan Xuguang once acted as director of Jinan Economic Committee, vice mayor of Jinan Municipal Government and deputy secretary of CPC Jinan Committee. He has more than 30 years' experience in government authorities, corporate governance and strategic planning, and has been successively evaluated as one of Top 10 Most Influential People in China's Automotive Industry over the Last 6 Decades, Shandong's Top 100 Heroes or Models Making Outstanding Contribution to Establishment and Development of New China, and so on.
Cai Dong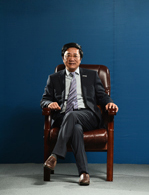 Senior engineer
President of SINOTRUK
Cai Dong once worked as director of R&D Center, leading the R&D, production and marketing activities of the Company. He has been successively granted a range of titles, such as Excellent Entrepreneurs in Shandong Province, China's Excellent Entrepreneurs, China Top Ten Independent Innovator, Excellent People at the 30th Anniversary of Reform and Opening-up Policy Adopted by China's Automotive Industry, and Labor Medal for Enriching People and Revitalizing Shandong.